After China factory index hit record low on coronavirus, finance ministers and central bank governors from the leading western nations pledged to use "all appropriate policy tools" to maintain the stability of the financial system.
According to China's National Bureau of Statistics data announced on Saturday, 29 February, manufacturing activity in China plunged in February to 35.7 points, all-time low, down from 50 points in January.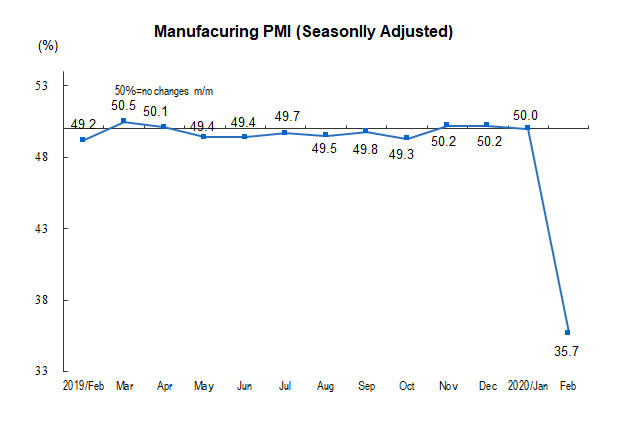 Source: China's National Bureau of Statistics
Notably, the collapse in China's manufacturing activity due to the coronavirus outbreak exceeded its collapse during the global financial crisis of 2008 when the manufacturing purchasing managers' index (PMI) plunged to 38.8 points in November 2008.
Based on migration data, banking group ANZ said the Chinese economy was operating at 20% capacity, with about 50% of workers back at their posts as of this weekend.  The new export orders sub-index dropped to 28.7, down 20 points from the previous month, because of cancelled and delayed orders as a result of the coronavirus, said Zhao Qinghe, NBS senior statistician, to the Financial Times.
The PMI is one of the leading official economic indicators that demonstrates the state of a country economy's health. It is no wonder that the most recent record low PMI reading in China, a global manufacturing hub, has virtually spooked the markets all over the world, raising the prospect of a coordinated policy response by central banks to prevent a global recession.
In a statement issued on Tuesday, finance ministers from the G7 group of leading economies pledged to take all necessary measures to maintain economic health as coronavirus spreads around the world:
"We, G7 Finance Ministers and Central Bank Governors, are closely monitoring the spread of the coronavirus disease 2019 (COVID-19) and its impact on markets and economic conditions. Given the potential impacts of COVID-19 on global growth, we reaffirm our commitment to use all appropriate policy tools to achieve strong, sustainable growth and safeguard against downside risks.  Alongside strengthening efforts to expand health services, G7 finance ministers are ready to take actions, including fiscal measures where appropriate, to aid in the response to the virus and support the economy during this phase.  G7 central banks will continue to fulfill their mandates, thus supporting price stability and economic growth while maintaining the resilience of the financial system."

– U.S. Treasury Secretary Steven T. Mnuchin and Federal Reserve Chair Jerome H. Powell
The G7 backed the IMF and World Bank's decision on Monday to open credit lines and emergency facilities to lend to countries facing a cash crunch when dealing with the virus. The IMF toolkit to help countries respond to the economic impact of the coronavirus more effectively includes emergency financing (Rapid Credit Facility (RCF) and Rapid Financing Instrument (RFI)), augmenting existing lending programmes, grants for debt relief (Catastrophe Containment and Relief Trust) and new financing arrangement under its existing facilities such as Stand-By Arrangements.
China, where the new coronavirus originated late last year and which has reported the bulk of deaths from the flu-like illness, has injected large amounts of liquidity to shore up market confidence. The People's Bank of China (PBOC), the country's central bank, has also told banks to help firms struggling with repayments by extending loans and not penalizing them if they are late with payments.
The Reserve Bank of Australia became the first major central bank to take action in response to the economic impact of coronavirus, cutting interest rates on Tuesday by a quarter of a percentage point to a new record low of 0.5%. It was followed shortly afterwards by the Malaysian central bank, which cut its overnight policy rate by a quarter of a percentage point to 2.5%. The US Federal Reserve cut interest rate a half-percentage point too in response to the "evolving risks" to the economy from the outbreak. Meanwhile, the European Central Bank (ECB) is working on several ways to inject cheap money into the eurozone economy that would offer a monetary policy stimulus without cutting rates further into negative territory.
The interest rate cuts by central banks were not welcomed by some investors. "Equity markets have become overly dependent on central banks coming in anytime things look a bit shaky and essentially throwing money at the problem – cutting interest rates, government bond buying schemes," CMC Markets analyst David Madden, said to Reuters. "If we have a health crisis whereby people, towns, cities are locked out or in quarantine, how is an interest rate cut really going to encourage people to go out and borrow and spend more money?" he added.
Mark Carney, the outgoing Bank of England governor, said on Tuesday that the scale of the shock to the global economy "could be large", with a big impact lasting one or two quarters. The Organisation for Economic Co-operation and Development (OECD) warned on Monday that a prolonged outbreak of coronavirus could halve the forecast global growth rate from almost 3% to 1.5% this year.
In a briefing on Friday, the World Health Organization (WHO) raised its global risk assessment for the new coronavirus from "high" to "very high" as some countries struggled to contain the pathogen. So far, the health crisis has infected more than 87,000 people and killed more than 3,000. The WHO in late January declared the outbreak a public health emergency of international concern, a designation that sent an important message about its severity. The WHO has not recommended restrictions on travel, trade or work yet, but many countries and companies have taken such steps.
If the coronavirus outbreak becomes a global pandemic, $1 trillion could be wiped off the world economy, with recessions in the United States and the eurozone, according to economists at Oxford Economics. A pandemic limited to Asia would knock some $400 billion off global GDP in 2020.
Not all economies were hit so impressively though.
In the United States, the Institute for Supply Management's (ISM) index of national factory activity fell to a reading of 50.1 last month from 50.9 in January.
Although Britain's factories reported a big jump in delays in their supply chains, British manufacturers are still in a post-election recovery mode, with the IHS Markit/CIPS purchasing managers' index (PMI) rising to 51.7 in February from the no-change level of 50.0 in January. New orders grew at the fastest pace in 11 months and business optimism hit a nine-month high.
In Asia, Japan's PMI showed its factory activity was hit by the sharpest contraction in nearly four years in February, reinforcing expectations the economy may have slipped into recession. South Korea's factory activity also shrank faster in February, as export orders contracted at the quickest pace in over six years. Activity in Vietnam and Taiwan, two key economies in the global technology supply chain, slipped into contraction from growth the month earlier.
But among Asian economies less reliant on global trade, growth in India's factory sector eased slightly from a near eight-year high in January, while Indonesia's factory sector returned to growth.
Additional reporting by Wang Lee and Cynthia Fleming
Image: Kateryna Babaieva
Related Articles