Private: Evergreen Sprinkler and Landscaping Services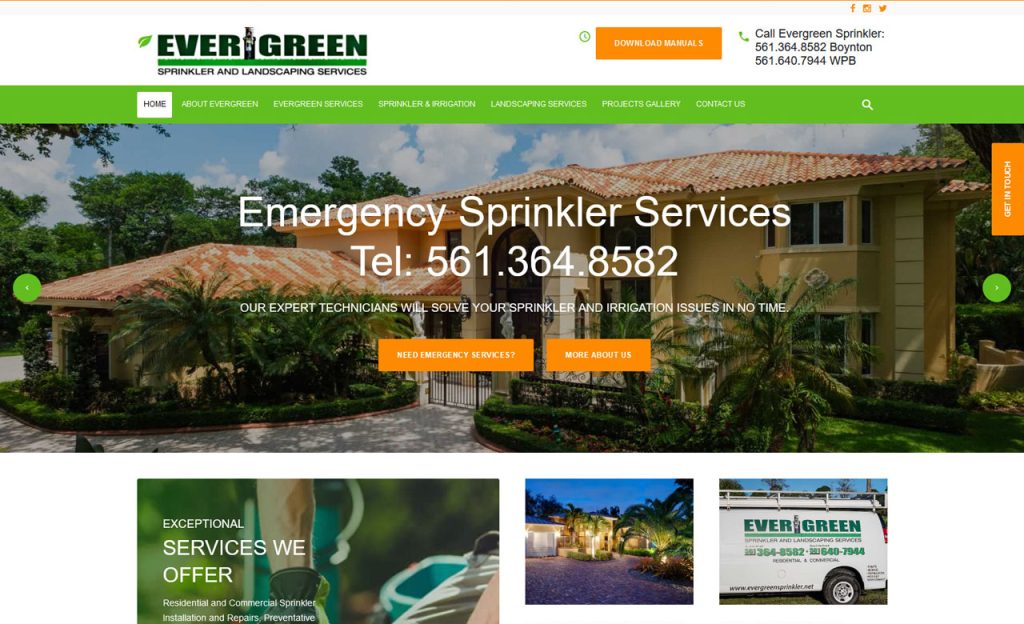 Evergreen Sprinkler & Landscaping Services in West Palm Beach, FL. Our expert sprinkler and irrigation technicians are trained to service residential and commercial systems of all brands. Our expert technicians will solve your sprinkler and irrigation issues in no time. We specialize in large communities system upgrades; our trucks are fully stocked with the latest state of the art technology for troubleshooting any problem, with quality products to complete any job. We have Serviced Palm Beach & Broward County for More Than 19 YEARS.
Commercial Irrigation – Our irrigation expert technicians will program your controller to help ensure your plant materials get the right amount of water at the right times. A properly programmed system can also help minimize runoff and evaporation to conserve water and save you money.
Sprinkler Irrigation – Residential and Commercial, Preventative maintenance and repair of all brands, Irrigation Monthly Maintenance Agreements, Service on all systems installed by others, Maintenance programs and budgets for larger systems, New Installations, Irrigation Design, 2 Wire Systems, Digital Controllers, Rain Sensors. https://www.evergreensprinkler.net