WHAT'S NEWS
EU-Japan Trade Deal
The EU and Japan that together account for around 30% of global economic output have signed a trade deal that creates the world's largest liberalized trade zone. The deal eliminates most bilateral tariffs, creating more favorable terms for Japanese autos sold in the EU, and European wine and dairy products sold in Japan. The Japan-EU deal will eliminate some €1 billion ($1.17 billion) in tariffs for European companies annually and double that amount for Japanese exporters to the 28-member bloc. – MarketWatch
US WTO Dispute Actions
The U.S. has filed separate claims with the World Trade Organization against China, the EU, Canada, Mexico and Turkey after the countries lodged complaints over the Trump administration's steel and aluminum tariffs. – Reuters
U.S. President believes that newer trade deals will create more jobs and stimulate the American economy:
3.4 million jobs created since our great Election Victory – far greater than ever anticipated, and only getting better as new and greatly improved Trade Deals start coming to fruition!

— Donald J. Trump (@realDonaldTrump) July 18, 2018

However, Fitch Ratings notes that the tit-for-tat trade tariffs being imposed by the U.S., EU and Chinese governments are likely to dampen capital spending by U.S. companies in 2018 and lead to a decline in spending in 2019 that may mark an inflection point in the late-stage business cycle. "The escalation of the US-China trade dispute and the notable absence of constructive negotiations point to a continuation of trade-related uncertainty for U.S. businesses through the second half of the year," said Bill Warlick, Fitch Group Credit Officer for U.S. companies. – MarketWatch
Google's Record $5 Billion Fine
Google has been fined $5b by the European Commission in the Android Antitrust case. The fine which is Europe's largest so far related to antitrust issues is equivalent to around 40% of Google's 2017 net profit of $12.62 billion. – WSJ
In accordance with the EC ruling, Google was ordered to change the way it puts search and web-browser apps onto Android mobile devices. Google was given until mid-October to stop what the EU called "illegal practices" on contracts with handset manufacturers that push its services in front of users. It faces daily fines of 5 percent of revenue if it doesn't obey. – Bloomberg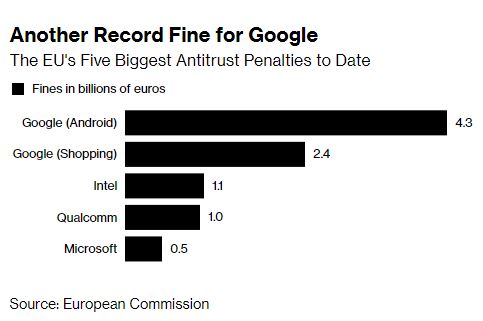 I told you so! The European Union just slapped a Five Billion Dollar fine on one of our great companies, Google. They truly have taken advantage of the U.S., but not for long!

— Donald J. Trump (@realDonaldTrump) July 19, 2018
Also in the News:
Jeff Bezos Becomes the Richest Man in Modern History
Jeff Bezos has become the richest person in modern history. The Amazon.com Inc. founder's net worth cracked $150 billion in New York on Monday, according to the Bloomberg Billionaires Index. That's about $55 billion more than Microsoft Corp. co-founder Bill Gates, the world's second-richest person. – Bloomberg
Mega Tech's Trillions of Market Value
The top five S&P 500 companies — Apple, Amazon, Alphabet, Microsoft and Facebook — combined are worth $4.095 trillion versus $4.092 trillion for the bottom 282 companies. – MarketWatch
Weekly roundups are published on Saturdays.
Related Articles