Sign Syndicate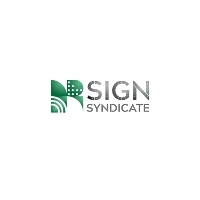 With over 10 years of experience, we at Sign Syndicate are one of the most competent and dedicated design experts and sign writers in Wollongong and Sydney. We specialise in creating unique, vibrant, customised signage solutions at an affordable price. Whether it is all about wrapping up a commercial vehicle with UV digital print or custom signage for your business, we are the most competent names to offer 100% satisfaction with some astounding solutions that will meet your needs to the fullest.
With so many years of experience and in-depth knowledge about the latest solutions that are the most vibrant and help you stand out from the rest, your quality work truly justifies your investment in us.
What services do we offer?
The services in Wollongong and Sydney that we offer include:
> Illuminated Signage
> Fabricated Signage
> Painted Signs
> 3D Signs
> Vehicle Signs
> Wallpaper Installation
> Rope Access
> Sky Signs
> Claddings
> Line Marking.
Contact us for further details.