Eternal Disability Care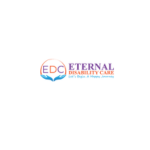 Are you in search of an NDIS provider having a diverse team of professionals to meet your needs? We welcome you to Eternal Disability Care where we have specialists at our disposal to work with you. They will ensure that you reach your objectives and develop the daily life and living skills required to achieve your goals.
Though we started our operations in 2020 only, in just a couple of years we have become extremely popular due to the quality of our services. Moreover, we offer a wide array of services to benefit the participants. So, you will not have to waste your time looking for an efficient provider. You will get all that you need from us. 
Since we aim to make our clients even more independent, choose us if you want to spend your life with dignity and without depending on anyone. Besides, serving the community is our first priority. So, as a member of the same, let our support workers help you now.
Services We Offer
Our array of services include
Supported Independent Living

STA / MTA / Respite

Support Coordination

Community Participation

Group / Centre Activities & Development of Life Skill

Assistance with Home Support / Household Task
We also offer housing services which include shared housing.
Why Choose Us?
Choose Eternal Disability Care since
Our support workers are trained and certified

We offer a wide range of NDIS services

We help participants reach their goals smoothly

We offer tailored services for our participants
So, as a participant, if you require our services, call us now.